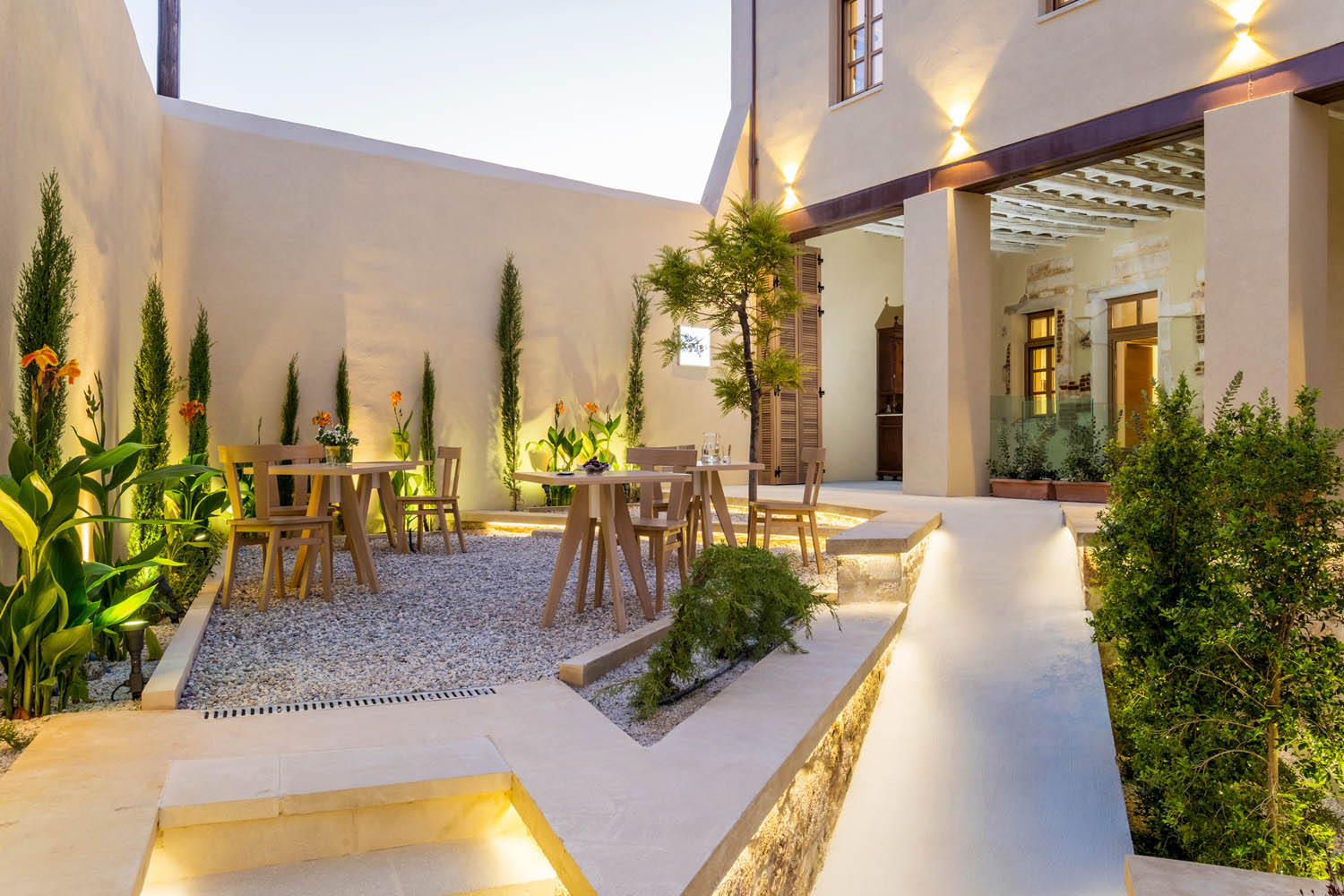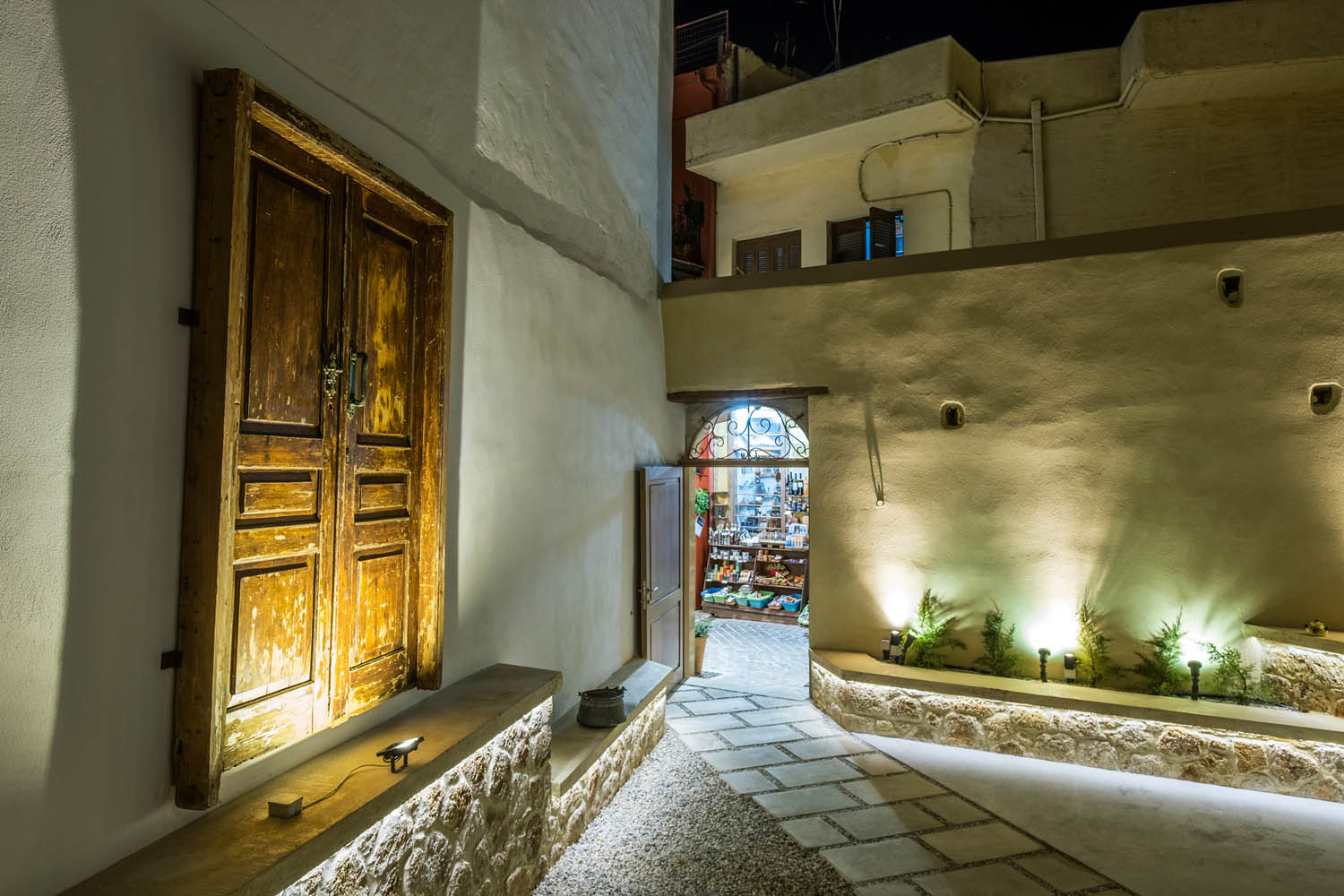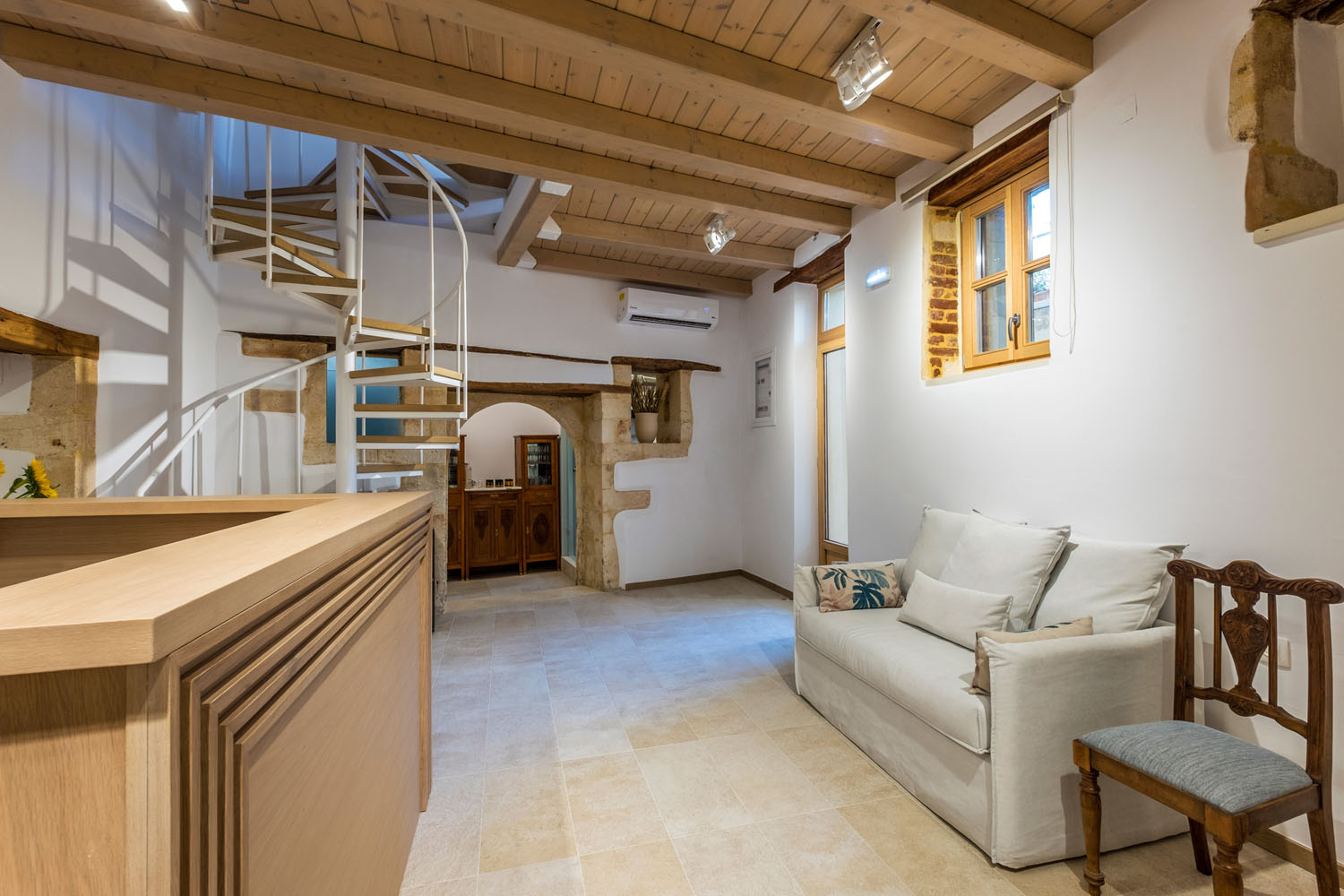 The Hotel
Aelios Hotel: An exquisite design hotel in Chania old town
Aelios Hotel is a new A' class design hotel, housed in an 18th-century building that has been expertly restored. It is located in the heart of Chania city, in the Chania old town, where you can see the main sights, and at the same time find taverns, cafes, bars and shops. Yet, as it is situated in the westernmost "Topanas" neighborhood of the old town, it is also tranquil and quiet, in order to be able to take advantage of every minute of your holidays to Chania.
As you pass through the outside door, which is located among high walls that leave the noise of the street outside, you see the big, impressive, and lined with trees courtyard, that welcomes you to one of the most eclectic stays of your life. The 180 m² courtyard of the hotel, possibly the largest courtyard in Chania old town, is the place where you will take your breakfast, and the refuge for your most relaxed moments during your stay.
The restoration of the hotel building has been made very carefully, using traditional materials of the highest quality. The result closely follows the original architecture, as the authentic arches and the original spacing of the hotel have been preserved. In the common spaces of the hotel you will also find some of the original old furniture of the building, which have been masterfully restored by an expert carpenter.
Your breakfast in the enchanting courtyard is prepared from the most fresh and natural ingredients. On the ground floor of the building there are the reception and the kitchen of the hotel, whereas on the 1st and 2nd floors there are the 5 luxury rooms and suite of the hotel.
Aelios Hotel: A history passing from generation to generation
The hotel building was built in the 18th century in an exceptional architectural style that combines Venetian and Ottoman elements. It was bought by the trader Nikolaos Valakis in 1926. Today, the building and the hotel belongs to Nikolaos Valakis, grandson of the aforementioned trader, who bears his name.
Aelios Hotel is a new hotel, that provides all the comfort and amenities for the demanding visitor. However, the centuries-old history and feeling of the building, and of its neighborhood, will make you feel like you have traveled back in time, in a time when life was more authentic and had a slower pace, and when people were extremely friendly and hospitable, something that in modern-day Chania still holds true.
We are looking forward to welcome you to Aelios Hotel, one of the most exquisite design hotels in Chania, and do whatever it takes to help you experience your holidays in comfort and style. Your stay in Aelios Hotel will combine all the modern-day amenities with the nostalgic scent of past centuries. This, along with our great service, will create an outstanding accommodation experience that you will vividly remember for years to come.